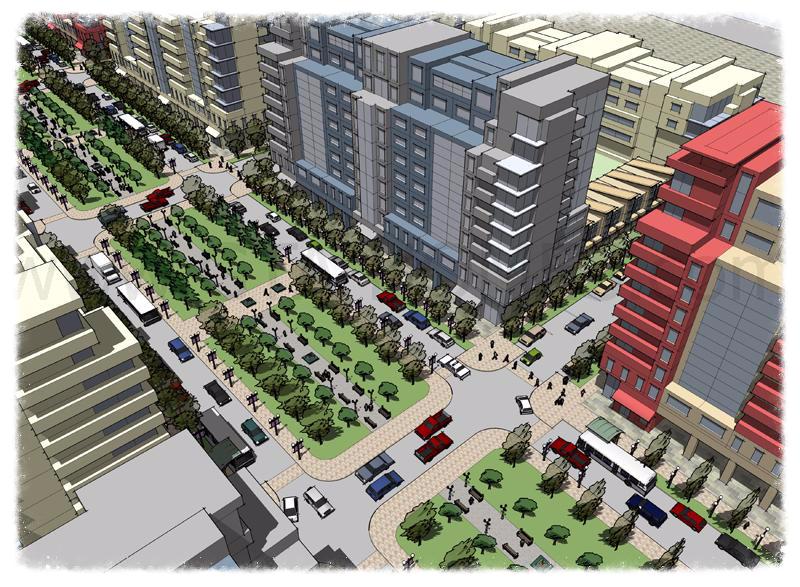 LANGSTAFF GATEWAY COMMUNITY IN PRE-CONSTRUCTION BY KYLEMORE COMMUNITIES
Langstaff Gateway is a new condominium development currently in pre-construction at Bayview Avenue and Langstaff Road East in Markham, Ontario by Kylemore Communities. It is a high-density mixed-use residential development integrated with the transit infrastructure in a "state-of-the-art ecologically designed community".
The Langstaff Gateway project is a proposed high-density mixed-use community that will be developed over many years and will show that sustainability can be gained by achieving a higher residential density community integrated with transit infrastructure. "It is only at these larger increments of development that sustainability systems like cogeneration, anaerobic digesters and personal rapid transit (PRT) systems become viable and effective. And only a concentrated residential population can support shops, offices, and civic services (such as schools) that make a community balanced and livable."
Langstaff Gateway Condos is designed to be a community that is balanced and livable. Many of the streets in this project are to be pedestrian and bike-friendly while still allowing others to use their vehicles. There are parks and open space that are situated throughout the site and the residential buildings will surround the public space. It is proposed that the buildings that are facing the central park will be mixed-use with ground floor retail/office uses and will have the highest densities. The further the buildings are from the central park, the lower the density and it will have a more "residential character".
The Langstaff Gateway Community project will incorporate existing transit services as well as new planned transit services for the future. Future residents will therefore have access to amenities, attractions and services available in the Greater Toronto Area. The streets that surrounds the central park will be reserved for pedestrian, bike and transit traffic. "Frequent curb bulb-outs, bike lanes, street tree planters and mandated setbacks all work to insure that the neighborhood streetscapes are attractive and encouraging of public activity. The various transit services all converge on the Transit Hub, a multi-modal transportation facility that will span the highway to connect more directly with development in both Markham and Richmond Hill." Another great project which is now selling in the heart of Richmond Hill is YongeParc Condominiums right at Red Maple Rd & High Tech Rd.
Langstaff Gateway by Kylemore Communities and Calthorpe Associates once completed will be a sustainable, balanced and livable community in the City of Markham.
Register with us today for more information on Langstaff Gateway by Kylemore Communities!
Register today for more details!